JOIN A BAND
A unique program that helps kids and adults form bands, build set lists and play real gigs.
The Twelve Tones Program is for students ages 8 & up. It's a synergistic learning system where kids progress at a comfortable speed, in a pressure-free environment. The secret sauce is Twelve Tone's
Small-Squad Jam Sessions
, where kids join ensembles and start playing in a fun and collaborative way. Where there's no pressure and kids are aligned in 'small squads', magic happens! It goes from being a chore, to being a passion they can't wait to develop.
In this program, students learn improvisation as well as how to thrive in an ensemble. In addition to the Jam Sessions, our top-notch instructors will design a tailored program specific to each child's needs in their weekly private lessons, to ensure every kid experiences the best of both worlds. They'll be making new friends and unleashing a love for music they'll have throughout their lives!
Let's Play!
FIND YOUR BAND
Being in a band can be a fantastic experience for kids. It can help them develop important life skills such as collaboration, communication, and teamwork. Being in a band also provides an opportunity for kids to express themselves creatively and to share their love of music with others. Furthermore, being in a band can be a great way for kids to make new friends and to be part of a supportive community. Additionally, participating in a band can also improve kids' self-esteem and confidence, as they learn to perform and share their musical talents with others.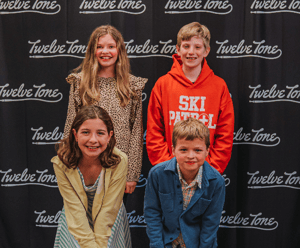 JOIN A BAND
The Twelve Tone program is a unique program that helps students find and create a band.
This program is for kids 8+ who have some experience on their instrument and are ready to play as part of a group.
We have over 20+ bands that are always looking for talent. Simply try a free class and we'll take it from there!
Bands have a maximum of 6 students per band to ensure that each member can participate in every song and there is no down time for students.
The cost of the Twelve Tone program ranges between an additional $139 to $159 per month*