FIND THE SPARK
Music is deeply personal to all of us. Our teachers understand that and work to find each students musical drive. Our teacher's passion is contagious and they love sharing their extensive experience.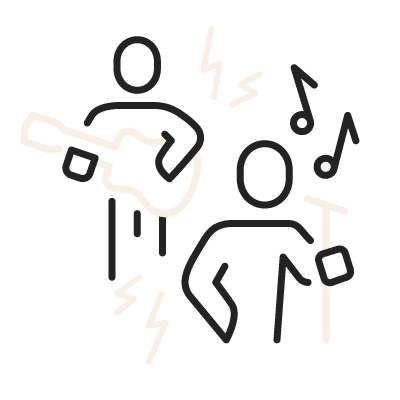 BUILD COMMUNITY
Playing music with other people is truly an amazing experience. It's unlike almost anything else on the planet. Once kids find a little spark our goal is to bring them into this amazing community of musicians and provide a safe space to grow and learn.
CREATE OWNERSHIP
Our unique band program allows kids who have found their love of music to thrive. They have the opportunity to truly be in their own band and learn what it takes from recording and production to sales and promotion.
PROGRAMMING AT TWELVE TONE
Explore unique programs for all ages. Our core instruments include Guitar, Bass, Drums, Vocals, Keys Ukulele and Fiddle.
LITTLE TONES (AGES 4-7)
LITTLE TONES
Ages (4-8)
From learning ukulele, drums, piano, and singing, to understanding rhythm and pitch, there is an entire world of music to discover! Start your children's musical journey here with a hands-on learning experience and all fun.
TWELVE TONES (AGES 8+)
TWELVE TONES
Ages 8+
This is where young rockers learn to play as a group as they explore and appreciate new music and the joy of playing together.
ADULT TONES (AGES 18+)
SOUND CHECK! GET A FREE TRIAL