STEP 1: TRY US FREE
Click our FREE TRIAL button and book a commitment-free trial lesson where we'll match your student with a top-notch instructor specific to the instrument they wish to play. There's no payment information taken or required.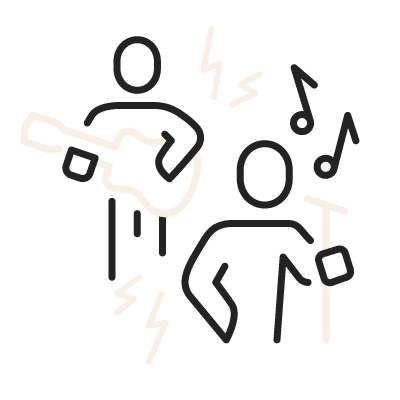 STEP 2: SIGN UP AND FIND YOUR SQUAD
If Twelve Tone is right for your child, we'll work together to place them in a curated Small-Squad that's a perfect fit for their type of instrument and level of play.
STEP 3: THE SKY IS THE LIMIT
As they advance in play and aptitude, we'll continue to review their progress with detailed feedback and monthly reports. It's exciting to see they're becoming budding musicians preparing for the stage and finding a love of music.
PROGRAMMING AT TWELVE TONE
Explore unique programs for all ages. Our core instruments include Guitar, Bass, Drums, Vocals, Keys Ukulele and Fiddle.
LITTLE TONES (AGES 4-6)
LITTLE TONES
Ages (4-6)
From learning ukulele, drums, piano, and singing, to understanding rhythm and pitch, there is an entire world of music to discover! Start your children's musical journey here with a hands-on learning experience and all fun.
SINGLE TONES (AGES 5+)
SINGLE TONES
Ages 5+
A weekly private lesson for students looking to get a jump start on their instrument. Learn the both the music an
TWELVE TONES (AGES 8+)
SOUND CHECK! GET A FREE TRIAL