Twelve Tone's Little Tones class is an exciting and engaging introductory music program designed specifically for young children between the ages of 4 and 7. Our aim is to provide these budding musicians with a hands-on experience that allows them to explore different instruments and discover the wonders of music in a supportive and interactive small group environment.
During our Little Tones class, children will have the opportunity to learn and try a variety of instruments, from the piano to the ukulele, percussion instruments, and more. They will be led by our experienced instructors who will introduce them to the basic techniques and fundamentals of each instrument, helping them develop a solid foundation in music.
But it's not just about playing instruments. Our comprehensive program also delves into the major aspects of music, ensuring that children gain a well-rounded understanding of the subject. From learning about rhythm and melody to understanding musical notation and exploring different genres, our Little Tones class covers all the essential elements of music to get them ready for private lessons.
In addition to the hands-on experience and theoretical knowledge, our group class setting encourages social interaction and teamwork among the young students. They will have the chance to collaborate with their peers, learning from each other and building important communication skills that will benefit them not only in music but in all aspects of life.
At Twelve Tone, we believe that the early years are the perfect time to ignite a lifelong passion for music. Our Little Tones program provides a nurturing and stimulating environment where young children can begin their musical journey with confidence and enthusiasm. Join us today and watch as your child's love for music blossoms and their talent flourishes!
Twelve Tone Music School has developed it's very own curriculum for introducing and leading young students towards early music success.
Our students learn a wide variety of topics in music that are specially adapted for younger students. Our hands-on approach to learning teaches students how to red rhythms, sing pitches and even play a new instrument! Each week they learn something new and exciting!
Here are just a few examples of what our students learn in our classes:
Introducing the basics of rhythm and rhythm notation while using different percussive instrument to practice with.
Learn the different parts to the ukulele and how to play simple strumming patterns!
Learn music dynamics and the differences between loud and soft (bonus! - learn the Italian words for the sounds)
Learn the musical alphabet and accompanying solfege.
Listen and hear the changes in chords and notes while learning the notes on the piano.
MUCH, MUCH MORE!
Why Little Tones?
THE MUSICAL JOURNY BEGINS
Little Tones is the perfect class for new musicians who aren't quite ready or have the dexterity to being private lessons. Little Tones students learn the basics of several different instruments in a fun an inviting way.
This program truly allows kids to have fun and learn music at the same time allowing to experience music and preparing them for private lessons.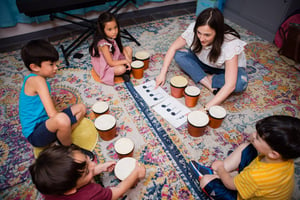 ABOUT LITTLE TONES
For students between the ages of 4-7.
We offer a variety of 30 minutes group classes throughout the week. Please inquire about availability.
Little Tones classes have a maximum of 4 students per class.
Little Tones is a flat monthly fee of $109 per month regardless of whether there are 4 or 5 classes per month.