Welcome to Twelve Tone Music School's Monthly Newsletter!
It's December here at Twelve Tone and boy have we been busy! We had our final showcase of the year this past November, in addition to our first holiday event with Friends of Downtown Glenview on the first Friday of December! It's been great getting to connect to the community with our love of music as we near the end of 2022. Cheers to all of our students who participated in Twelve Tone's events throughout the year! There's more on the horizon, but until then..check out some of these sweet action shots of our kids doing what they do best: rocking out on stage!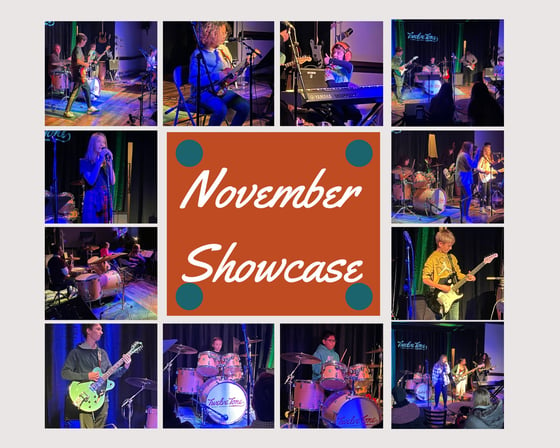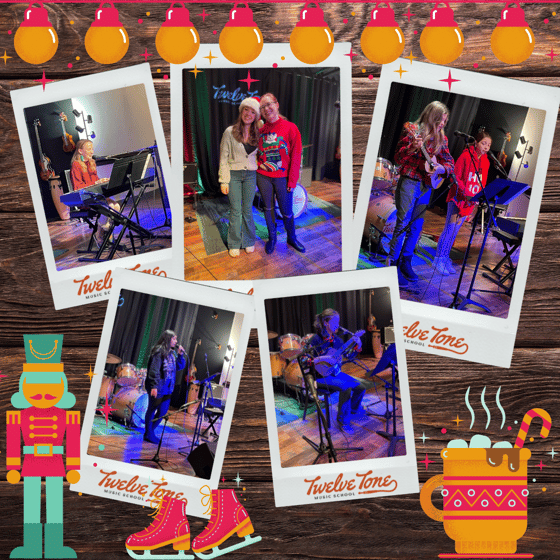 The school will be closed for the holidays during the following dates:
Friday December 23rd-Sunday January 1st
We will still be open for lessons on Thursday December 22nd.
The school will reopen for lessons on Monday January 2nd.
If you have questions regarding your lessons, please call the school.
From all of us at Twelve Tone, we hope you have a wonderful holiday and a happy happy happy new year!
STUDENT SHOWCASE ALERT!
Our first showcase of 2023 will be
February 3rd -AND- 4th
Mark your calendars now; the deadline to sign up is on January 20th!
Sign up HERE!
Twelve Tone is still collecting winter gear for our winter coat drive. We're collecting both adult and child sizes. Please ensure items are new or gently used: winter coats, hats, gloves, boots and socks.
Drop off items at the front desk collection bin when you come in for your next lesson! We'll be collecting through January so there's still time to donate.
Doors are OPEN for SUNDAY lessons!
If you've been waiting for us to offer lessons on Sunday, now's your chance! We'll be open for lessons between the hours of 10a-3p. If you're interested in private lessons, jam class, or Little Tones, call us today to get your student set up.
Coming up in January we'll be opening up Friday afternoon private lessons. Be on the look out for more information and call to reserve your spot!
Phone: (847) 901-7161
Email: info@twelvetonemusicschool.com